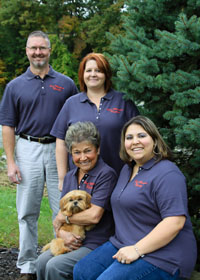 We started Pat Merwin Realty in 1988 in response to the real estate needs of our community. We are firmly and sincerely committed to providing our customers with a pleasant and satisfying experience.
Let's face it, buying or selling a home can be a frustrating time. So, we take it upon ourselves to ease that frustration, explaining everything that will happen during the process. Our belief is that, as a buyer or seller of a home, you should never be in the dark.
Many realtors showcase their own accomplishments, and talk about their sales awards and president's club memberships. Our goal is to showcase our customers. We live and work in a small community, and for the last 13 years our business has operated solely on referrals. This is the best indicator to me that we're providing our customers with the right experience.
Living in a small community is what I love. People, interaction, and relationships are precious. I continue to respect these and emphasize that our customers are the true reason why we are here.
– Pat Merwin